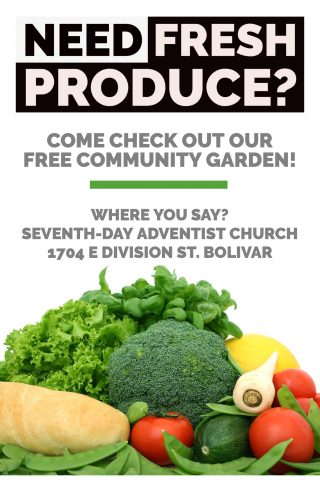 Thank you for visiting us.
Are you in need of fresh produce, but the budget just doesn't allow it? What if you just cannot raise fresh produce where you live? We have the solution. 
The Spring of 2019 our church started a FREE community garden. Various plants producing some yummy food have been grown and shared with our community. 

This year, the garden has been expanded to meet even a greater need!

Dedicated church members and some community members working together to plant and weed the garden.

How does it work? 
When there are ripe produce to harvest, the appropriate sign(s) will be put up near the garden and in front of the church. Community members are encouraged to take only what they need so there are plenty of produce for others. 
The garden is open during day light hours. The garden is closed during Sabbath hours, which are: Sunset Friday evening to sunset Saturday. Please observe these times. Thank you.

If you'd like additional information about the garden and maybe help, please see the "contact us" page. 

God bless.